Conversational Marketing Just Got Easy
See what a Stackchat voice app could look like on your website.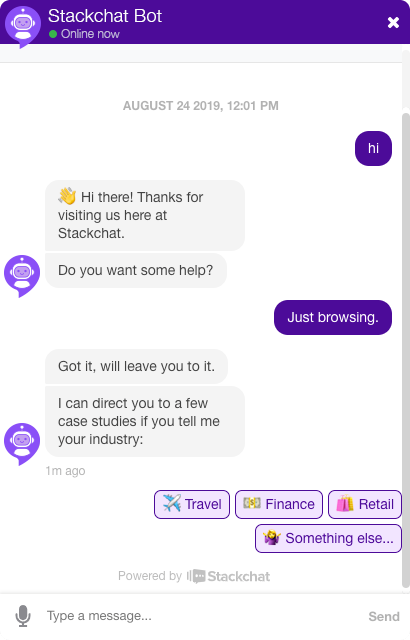 Attract
Connect with your future customers in just a few clicks using our prebuilt chatbots.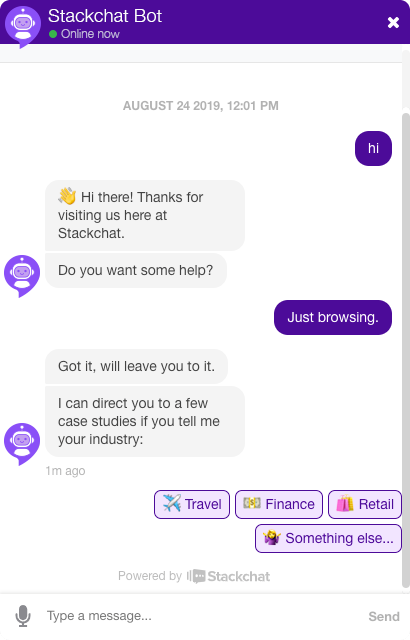 Engage
Drive customer engagement by automating and personalising your customer conversations at scale.
Retain
Go from arms-length relationship with customers to 24/7 interaction using blended AI and human chat.
Connect
Stackchat connects your business to any messaging channel, unifying each customer chat into an omnichannel conversation with a single view of your customer.
Enterprise-grade scale and security.
Get chatbots for the enterprise and protect your customer data with our battle-tested GDPR-compliant platform.
Start building now
Stackchat is your all-in-one conversational marketing platform to build, manage and optimize chatbots for your business.
NLP AI & Context
Allow any member of your organization, regardless of background, to design and deploy AI-driven conversational experiences for your customers.
Embedded Voice
Use our proven voice AI technologies on both mobile and web and customise models to detect your brand's special vocabulary.
Bot Builder
Intuitive, easy-to-use and best-in-class, the Stackchat Studio bot builder gives you the power and flexibility to build any chatbot.
Logs & Analytics
Stackchat's built-in analytics suite allows you to see exactly how users are interacting with your bot.
Subscribe
Receive updates about industry trends, new features, tutorials and more.
Scale growth at your business.
Nearly 70% of consumer inquiries can be automated. Learn how to apply conversational marketing in your industry.
Tourism & Hospitality
Bots can browse flights, hotel rooms & car rentals, retrieve pricing information, provide discount codes and answer FAQs.
Higher Education
Bots can provide library, gym and laboratory hours, class registration deadlines & financial aid applications amongst many other applications.
Finance
Bots can help process payments, show interest rate comparisons and check the backend status on card applications amongst many other use cases.
Retail & eCommerce
Bots can help retrieve pricing information, product specifications & availability, highlight promotional offers and provide shipping & installation information and more.